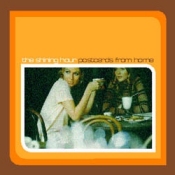 TRACKLIST
- Ache
- Blue Water
- Appetence
- How Much
- Bullet
- Destiny Calls
- Ten Long Years
- Warmth Of The Sun
- This Time
- Losing Faith
- Still
- Apart


View the lyrics to this album



MP3 128kbps (download only)


| | | |
| --- | --- | --- |
| This Time | | 3.2 Mb |
| Blue Water | | 2.5 Mb |
RECORDING INFORMATION
The songs were all recorded on a Roland VS-840 digital workstation. Work commenced in April 1998 with 'Warmth Of the Sun' being the first song started. It was slow progress mainly due to lyric writing and learning a new machine. Eighteen songs were recorded in these sessions and fifteen were selected for the Appetence CDR. The three remaining songs are 'Destiny Calls', 'Holding On' and 'Break Down The Door'. All songs were completed in March 2000. Apricot Records decided to take 12 of these songs and release a second Shining Hour CD, 'Postcards From Home' which will see release on 5th April 2002.

Ache is a piano-led song with some nice acoustic guitar chord changes. A quiet opener for the new album.
Blue Water was actually the first song finished in the 'Appetence' sessions in July 1999. It is similar in lyrical theme to 'Warmth Of the Sun' about someone who goes on holiday leaving behind an unrequited love.
Appetence is the first song with the title the same as a Shining Hour album title. I find the song to be quite sad but also uplifting. It was the result of an accident, playing the guitar and just hitting this riff. Much like the word 'Appetence' which I saw at the front of a dictionary. The dictionary had the first few pages missing and the word seemed to leap out at me. It means 'desire' or 'longing' and sums up the lyrical content perfectly.
How Much is a 'dare-I-say-it' song inspired by listening to Nick Drake, whose music I only discovered in 1999 following a TV documentary about him. However, unlike Nick Drake my guitar playing skills forced me to strum instead of playing the intricate finger picking style he was so famed for. A nice song though, I think.
Bullet is more of the typical Shining Hour song - strumming verse with singalong chorus.
Destiny Calls has two 'angry' Rickenbacker rhythm guitars and a searing solo. As they say in the USA, it rocks!
Ten Long Years was actually completed in July 1999 but remixed in February 2000. The song has a cool lead guitar solo on top of a chiming jangly guitar, unusual for a Shining Hour song!
Warmth Of The Sun was one of those problem songs where I couldn't get the vocals quite right. Persistence paid off and the overall result is pretty good. This was the first song attempted on the Roland VS-840 and what is amazing is the clarity of the drum machine sounds. All the drum sounds were recorded in stereo on every song.
This Time went through three different title changes but never mind because it is still a fast singalong pop song designed to be played loud!
Losing Faith has a guest musician on the song. Hanns-Christian Mahler of Brideshead & Elegant and Apricot Records recorded lead guitar and acoustic rhythm guitars to a guide track when he visited England in April 1999. I recorded the rest of the overdubs and drum programming later in the year with the addition of acoustic guitar, electric rhythm, bass, vocals and keyboard. Hanns-Christian also helped shape the song into a format and sound which was different to what was originally envisaged, and is far better for his ideas. Love that English Horn sound.
Still took a long time to record and get right. The mix took even longer it seemed. A sweet song nonetheless and definitely worth the effort. It has an epic feel in its 3 minutes 26 seconds.
Apart was a little experimental. The keyboard sounds are fairly regular but were 'processed' through MIDI filters which give them a haunting quality - purely by accident than design. The trickery at the beginning of the song is pure digital-pokery!



Hope you enjoy the songs too.
APRICOT'S PROMOTIONAL STATEMENT
It was the first warm day of the year; a long winter came to an end. We were happy to feel some warmth and see the first signs of Springtime. I walked down the few steps to the mailbox, joyful thoughts about a breakfast outside on the porch in my mind. When I opened the mailbox I found a postcard inside. It was from Mark; we had not seen each other in a long time and I was curious about his life and his experiences in the past year. He was writing about the wintertime in England. About days spent inside, listening to music and reading books. On the next day I was surprised to receive a postcard from Mark again; it contained a short story about a girl he had met in a small grocery-store. This went on for another 10 days; I obtained 12 postcards in total - and when I took the 12th card out of the mailbox I discovered a small parcel with a CD in it. In the accompanying letter Mark explained that he had recorded 12 songs - songs about love and loneliness, about hope and despair, about faithfulness and tears. 12 songs about his winter in Worthing, England, 12 songs so typically for The Shining Hour. P!O!P!-songs from Mark's bedroom - jangling guitars, soft vocals, tunes so soft as a piece of chocolate-cake. Mark is one of the these British songwriters being dedicated to music and music only. Think of Nick Drake, Ben Watt or Bill Pritchard. His music is strongly influenced by the spirit of c86; bands like McCarthy, The June Brides and The Railway Children will come to mind. The Shining Hour - as English as the weather. I haven't received a postcard from Mark in a while now. But I'm sure he'll write back if you send him a card. Or you'll listen to his 12 Postcards From Home.

REVIEW

None so far